Response to FTA/EPA

Under the active promotion of EPA policy by the Japanese government, the issuance of various FTA and EPA has been expanding. JAPIA is conducting activities to promote the use of FTA and EPA to member companies.

●In September 2020, the Public Finance Act was amended and enforced in India. This was an amendment to tighten the operation of the EPA, and many JAPIA member companies were affected. The International Logistics WG took the lead in compiling information on the impact of the EPA on import customs clearance in India and shared it with the Ministry of Economy, Trade and Industry (METI). The International Logistics WG also obtained the latest local information from METI and shared it with our member companies to support their activities in India.

●In 2020, the Japan-UK Comprehensive Economic Partnership Agreement was signed on October23, and the Regional Comprehensive Economic Partnership Agreement on November15. The Japan-UK EPA was subsequently decided to take effect on January1, 2021, JAPIA focused on activities for its use through holding a briefing session for members in 2020. The RCEP is the first EPA with China and South Korea, so JAPIA members have very high expectations for its use. Although the date of issuance has not been confirmed yet because many member countries are still in the process of ratification. There is a very strong demand from member companies, so a briefing session was held in March 2021 with METI.

●As described above, the automotive industry has begun to actively utilize FTA and EPA, including those agreed to and signed in 2020. This expansion of the use of FTA and EPA will simultaneously lead to an expansion of survey of origin.
For several years, JAPIA has been working with JAMA to standardize and optimize (building a system) survey of origin to reduce the workload throughout the supply chain. As a result, JAFTAS, was officially started in September 2020. Immediately, improvement activities started and JAPIA will continue to participate in this project, including from the perspective of suppliers.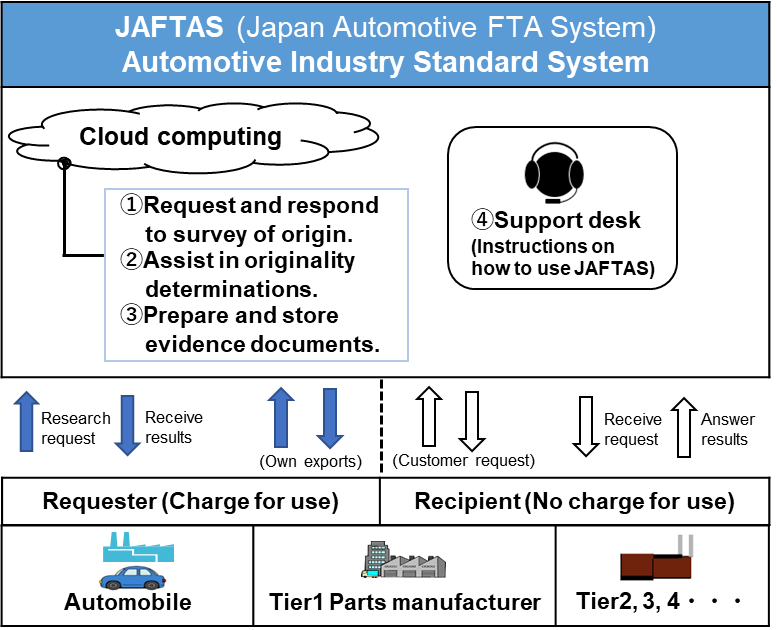 (Excerpt from JAPIA NEWS 2020 ISSUE 3)